The Slate Pages app is mainly comprised of 3 basic screens:
Scanner
Home Screen
Slate View
Although there are other workflows within the app, these three screens are where you'll spend most of your time, so let's get familiar with their features.
Scanner
The scanner will allow you to quickly scan a Slate QR code, but there are a few buttons and features here that will help you manage your slates quicker.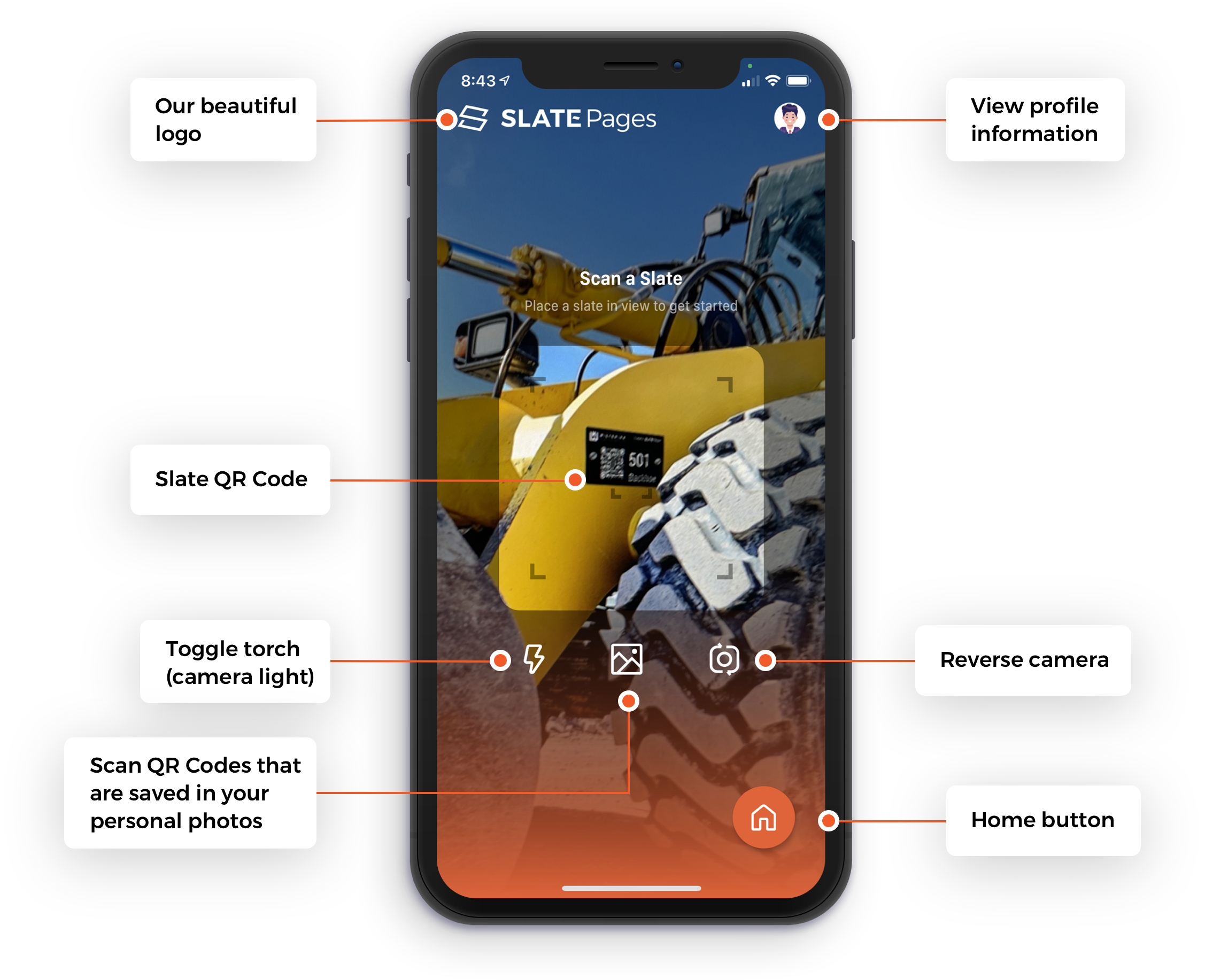 User Profile Avatar - At the top of the Scanner screen, you'll see your user avatar (your photo), or a circle with your initials (if you have no image). Tapping will take you to profile information.
Scanner - In the middle of the screen, the scanner reticle allows you to scan a Slate QR code.
Scanner Options - Under the reticle, you'll fine some icons:

Toggle touch - this will enable or disable the "flash light" on your device.
Photos - If you have a Slate QR code stored as an image in your photo gallery, you can load it. The Slate app will scan the QR code within the image and load the Slate.
Camera toggle - Switch between the front and back cameras on your device.

Home Screen button - Tapping this button will take you there!
Home Screen
The Home Screen will give you access to all your slates, if you have access to one or more Stacks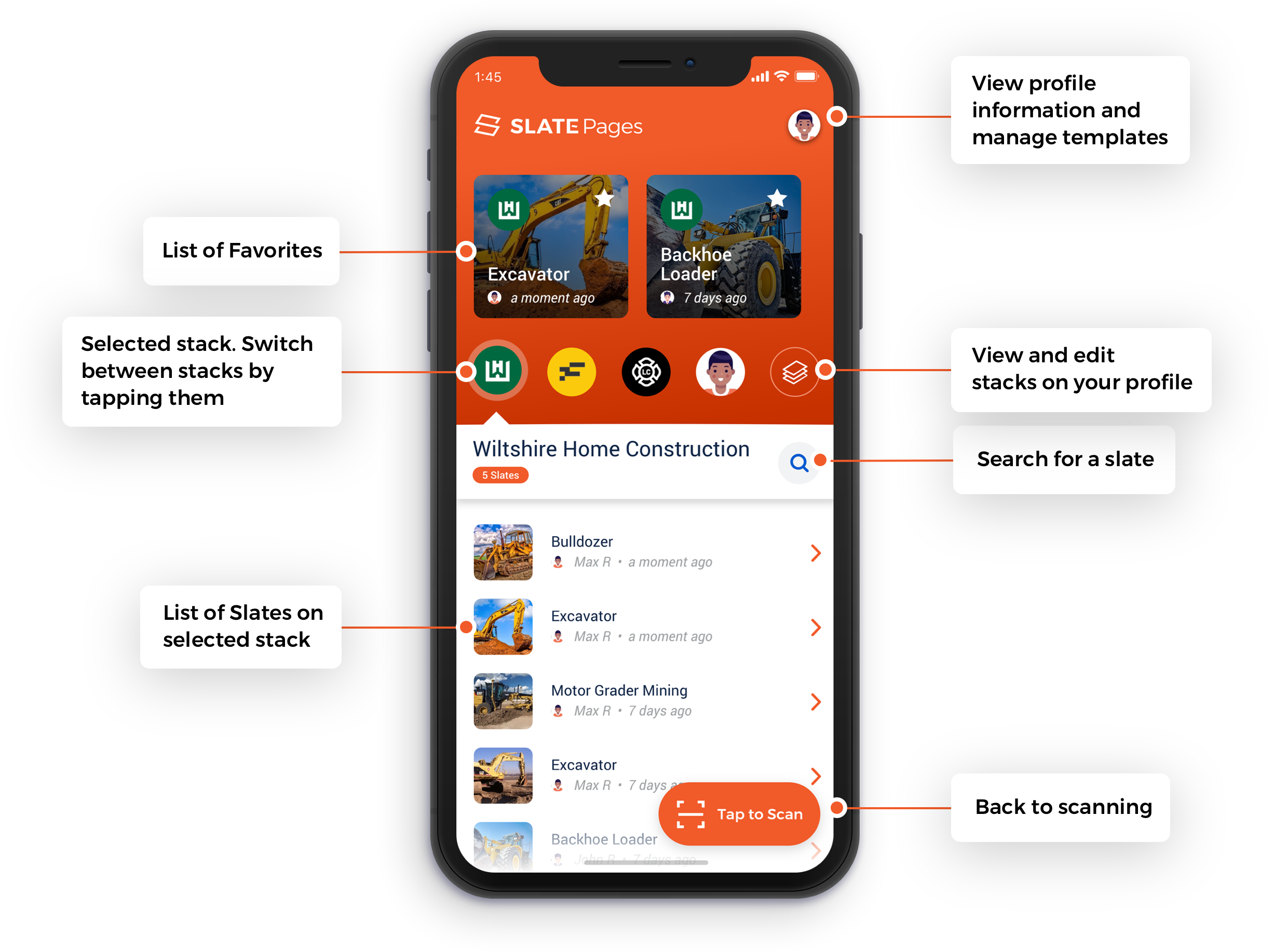 User Profile Avatar - Again, you'll find your profile at the top right corner.
Favorites - This area is where your Slate Favorites will be displayed.
Stacks - This area is where you can switch between stacks you have access to, and managing those stacks.

The first 4 icons will be the most recent Stacks you've worked with.
The far-right icon allows you to manage your stacks.

Current Stack & Search - Under your stack list, your selected stack will be displayed, showing number of slates, and ability to search.
Current Stack Slates - All slates on your selected stack, ordered by most recently updated.
Scanner button - Tap here to go back to the Scanner screen.
Slate View
Scanning or opening a slate will present this screen.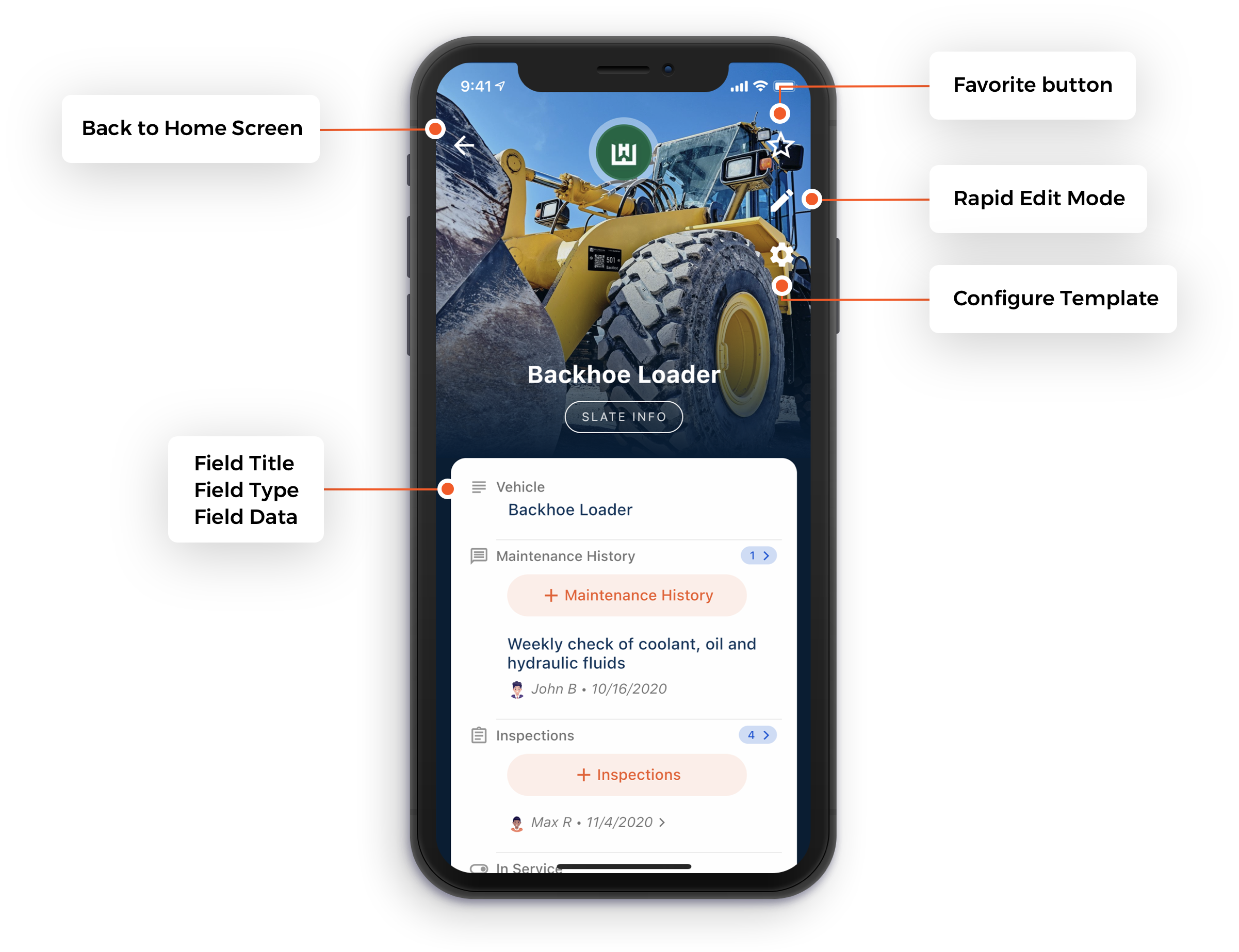 Going back - Tap the top-left corner of the screen, or swipe from the left edge to go back.
Favorite button - Tapping this button will toggle the slate showing on your Favorites list.
Rapid Edit Mode button - If you are entering a lot of data on your slate, it can be helpful to use the Rapid Edit Mode feature. Turn this on for quick editing.
Configure Template button - Your slate is fully customizable. Tap this button to edit the fields of your slate.
Slate Fields - Each field will contain:

An icon, which represents the type of field it is (text, phone number, location, etc.).
The title of the field (specified when configuring the slate).
The data of the field.